Open source tools for organisations that use TOGAF: Archi and CMDBuild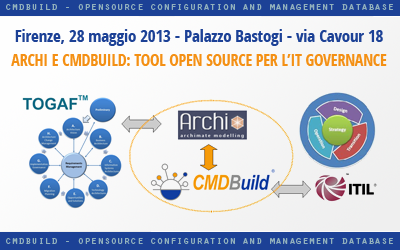 Florence,
28
th
May 2013 
Regional Council of Toscana
Via Cavour 18 - Palazzo Bastogi - Sala delle Feste
TOGAF is an open framework that supports the design and management of IT enterprise architectures, while Archi is the reference open source tool to design TOGAF compliant models.
Until now was not available an open source repository to store and manage the elements modeled with Archi.
CMDBuild can now be used for this purpose thanks to the "plugin" developed in cooperation by the University of Bologna and SIAE, that provides the complete bidirectional synchronisation with Archi.
Please find below the schedule of the meeting:
2.30 – 2.45 PM: Carlo Cammelli, person in charge for the Technologies and ICT processes of the Regional Council of Toscana: "Why best practices and the communities can help the PA to change"
2.45 – 3.15 PM: Maurizio Romano, Icons: "Organizing the Enterprise: the collaboration between Enterprise Architect, Project Manager and Service Manager"
3.15 – 3.45 PM: Francesco Bocola, HSPI: "Management and representation of Enterprise Architectures with TOGAF and Archimate: Purposes and main features of a combined approach"
3.45 – 4.00 PM: Coffee Break
4.00 – 4.30 PM: Fabio Bottega, Tecnoteca, CMDBuild Project Manager: "The CMDBuild project: philosophy, functionalities and next developments"
4.30 – 5.30 PM: Luca Bompiani, University of Bologna and Maria Licciardi / Fabrizio Zavagli, SIAE: "A plugin that synchronizes Archi and CMDBuild: functionalities and advantages of a collaborative work. Use demonstration"
5.30 – 5.45 PM: Discussion
We thank the Regional Council of Tuscany for the organizational support.