Document Actions
Description
CMDBuild is a configurable web application to model and manage a database containing assets (CMDB stands for "Configuration and Management Data Base") and handle related workflow operations.
The aim is to let the operators have full control of the assets used, knowing exactly composition, position, functional relations and history.
CMDBuild is a centralized management module working with databases and external applications: automatic inventory, documents management, text processing, directory services, e-mail, monitoring systems, intranet portals and other information systems.
CMDBuild is a flexible and user-upgradeable system and uses the best practices defined by ITIL (IT Information Library).
CMDBuild is released with AGPL license.
The maintainer of CMDBuild is the italian company Tecnoteca.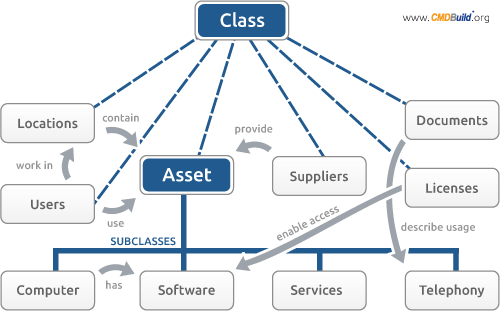 CMDBuild
application, if correctly configured and managed, offers to managers and IT operators answers to these common questions:
how many resources do I have
where is located a specific asset and who and how is using it
is it (the asset) part of something and what's his composition
which are the warranties or licenses expiring
do I have all the required software licenses
what's the asset life cycle
which are the connections between asset and network devices
changes to this asset implies changes to other assets
which are the jobs waiting for my action
who worked on an asset and when, with which authorization, what's the final result