The first edition of the CMDBuild DAY was held on April 15, 2010 at the Castle of Udine, Italy.
The objective of the meeting was to share the experiences made in using CMDBuild, now adopted by many prominent organizations in Italy and abroad.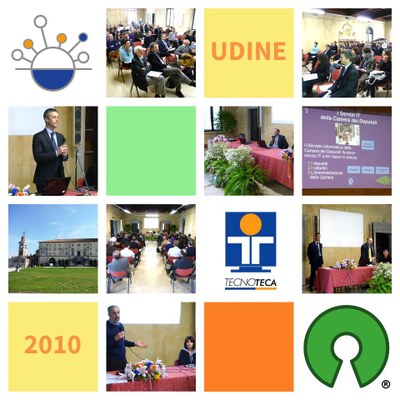 Agenda
Meeting time: from 9.30 to 17.30. All the speeches are in Italian.
Welcome
Saluto di Paolo Coppola, Assessore del Comune di Udine
Opening session and state of the art
Saluto di Mario Pezzetta, Presidente del Distretto delle Tecnologie Digitali della Regione Friuli Venezia Giulia
Intervento di Rossella Macinante, Practice Leader di Net Consulting
Intervento di Antonio Scaramuzzi, Comune Udine
Intervento di Fabio Bottega, Tecnoteca srl
Intervento di Giampaolo Rizzi, Cogitek srl
Coffee break
Case histories
Carlo Simonelli, Camera dei Deputati - Utilizzo di CMDBuild alla Camera dei Deputati (intervento in videoconferenza)
Rosanna D'Urso, Pietro Scerrato, SSC Gruppo Telecom - Il miglioramento continuo in SSC e l'approccio multi modello integrato - Esperienze d'uso di CMDBuild a supporto del sistema di qualità
Antonia Consiglio, Emiliano Pieroni, Avvocatura Generale dello Stato - Diffusione delle "best practice" ITIL nell'Avvocatura dello Stato con il supporto del sistema CMDBuild
Lunch buffet
Case histories
Carlo Cammelli, Consiglio Regionale della Toscana - Dall'inventario agli asset, dagli elenchi alla qualità
Gaudenzio Vinetti, Selene Gruppo A2A - CMDBuild per gestire gli asset di un operatore TLC
Silvio Sorrentino, Dario Ferrario, Corepla (Consorzio Nazionale Recupero Plastica) - L'adattamento ITIL nel Consorzio Corepla
Roberto Raciti, Alberto Bini, Silvia Lombardi, Aeroporto G.Marconi di Bologna - Gestione delle attività IT presso l'Aeroporto di Bologna
Massimo Carnevali, Laura Badini, Comune di Bologna - Implementazione di CMDBuild presso il Comune di Bologna
Lidia Pascoli, Comune di Udine - Il progetto "Scuelis": uno sportello unico per le richieste delle scuole
Altri interventi degli utilizzatori
Paolo Ambrosio, Tecnoteca srl. Stato di avanzamento dei lavori e roadmap del progetto
Conclusion