The second edition of the CMDBuild DAY was held on May 10, 2012 at the headquarters of the Emilia Romagna region, in the Conference Room "A" Third Tower, Viale della Fiera 8, Bologna, Italy.
The program of the day includes:
updates on project status
presentation of some case studies with organizations and companies that are using

CMD

B

uild

®
presentation of the updated roadmap for future developments
a session of questions and answers, to provide useful informations on the CMDBuild usages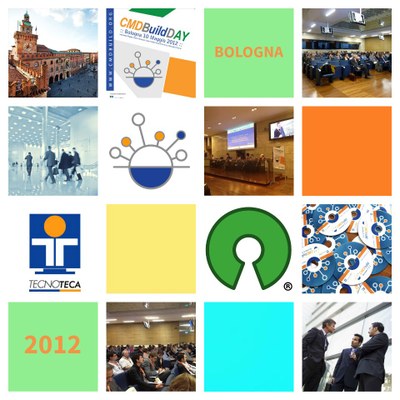 Agenda
Meeting time: from 9.30 to 18.00. All the speeches are in Italian.
Welcome
Saluto della Regione Emilia Romagna, co organizzatore dell'evento
Saluto di Stefano Mineo, Resp.U.I. Esercizio, Settore Città Digitale e Tecnologie Informatiche – Comune di Bologna
Saluto di Gian Franco Poggioli, Responsabile Ricerca, Innovazione e Studi – Unindustria Bologna
Opening session and state of the art
Intervento di Fabio Bottega – Tecnoteca Srl, Maintainer di CMDBuild e coorganizzatore dell'evento
Intervento di Antonio Scaramuzzi, Paolo Agati – Comune di Udine, committente iniziale del progetto
Intervento di Davide Dozza – Yacme Srl, partner locale e coorganizzatore dell'evento
Coffee break
Case histories
Luca Catti, Giovanni Grazia, Regione Emilia Romagna – Un approccio integrato e "open" al Service Management: l'esperienza e le prospettive della Regione Emilia-Romagna
Antonia Consiglio, Emiliano Pieroni, Avvocatura Generale dello Stato – CMDBuild come strumento di controllo dei processi IT e della gestione del Budget
Roberto Bico, Paolo Sustrico, CSI Piemonte – CMDBuild: non solo asset, ma anche utilizzo di workflow
Graziano Fastelli, Piaggio & C. Spa – Descrizione dell'infrastruttura IT, gestione dei servizi (change management) e interoperabilità con sistemi esterni
Carlo Simonelli, Camera dei Deputati – CMDBuild per il Service Catalog della Camera dei Deputati
Lunch buffet
Case histories
Carlo Cammelli, Consiglio Regionale della Toscana – IT service management: accesso integrato per service catalog, news e ticketing
Gabriele Colombo, AGSM Verona Spa – Monitoraggio dei servizi e gestione degli allarmi con CMDBuild
Matteo Gamberini, Alberto Bini – Aeroporto di Bologna Spa – La gestione degli interventi dei fornitori esterni con CMDBuild: manutenzione a guasto e schedulata
Gian Luca Sanzani, Manila Bonvicini, Provincia di Bologna – L'esperienza della Provincia di Bologna
Cristian Manfredini, Provincia di Reggio Emilia – Gestione degli asset dell'ente: un approccio partecipativo
Paolo Agati, Comune di Udine – CMDBuild: 1 Sistema, 100 Risposte
Luca Bompani, Università di Bologna – Un prototipo di integrazione fra CMDBuild e NetEye / Nagios
Lucio Caporali, Interaction Group Srl – CMDBuild on the cloud
Conclusion