The third edition of the CMDBuild DAY was held on May 15, 2014 at Chamber of Deputies, Palazzo Marini, Sala delle Colonne, via Poli, 19 - Rome.
The objective of the meeting is to share the experiences made in using CMDBuild, now adopted by many prominent organizations in Italy and abroad.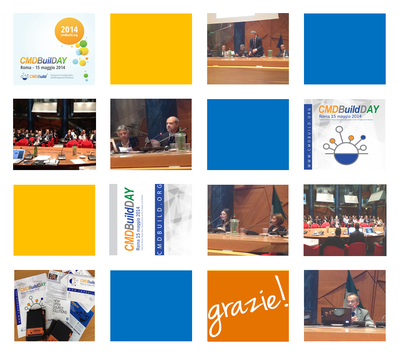 Agenda
All speeches are in Italian.
Welcome salutation
9.30
Paolo Coppola –

Member of Parliament

,

University Professor of

Computer Science

State of the art
9.55
Fabio Bottega – Tecnoteca Srl, maintainer of the CMDBuild project – Stato di avanzamento del progetto e piani di sviluppo previsti
CMDBuild in the Italian Parliament
10.20
Carlo Simonelli – Chamber of Deputies – L'utilizzo di CMDBuild alla Camera dei Deputati
10.45
Vincenzo Curci, Ciro D'Urso – Republic Senate

–

L'utilizzo di CMDBuild al Senato della Repubblica

Coffee break
Case histories
11.30
Carlo Foti –

Ministry of Interior

– La Gestione del Service Desk con il sistema open source CMDBuild
11.55
Loredana Caradonna, Cristina Tribelli – Invitalia, National Agency for inward investment promotion and enterprise development – Il Contact Center di Invitalia certificato UNI 11200. Un caso di applicazione di CMDBuild
12.20
Luca Bompani, Graziano Zucchini – Bologna University – La riprogettazione del Service Desk dell'Università di Bologna con CMDBuild
Lunch
14.00
Presentation of openMAINT: the open source solution for the Property & Facility Management, powered by CMDBuild
14.15
Carlo Cammelli – Toscana Regional Council – La gestione del PCO (Piano continuità operativa) con CMDBuild
14.30
Gabriele Colombo – AGSM Verona – L'ecosistema dei servizi informatici AGSM gestiti con CMDBuild
14.55
Francesco Ferrante – Serco Ltd – Serco, CMDBuild experience in Space environment
Coffee break
15.30
Luca Catti – Regione Emilia Romagna – Regione Emilia-Romagna … a CMDBuild journey. FOSS e criticità dell'integrazione
15.50
Roberto Bico, Paolo Sustrico – CSI Piemonte – CMDBuild: Conoscere per gestire. Risparmio di denaro e diminuzione dei rischi nella Gestione Postazioni di Lavoro & Analisi di impatto manutenzioni
16.10
Lorenzo Mastropietro – Piaggio SPA – Utilizzo di CMDBuild in un contesto multisocietario internazionale
16.30
Final discussion