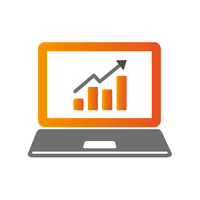 It is important for the company management to have the possibility of consulting the trend of main indicators (KPI - Key Performance Indicator), which are achieved by analyzing the information (data cards and processes) filed in the CMDB.
For this purpose you are able to define "dashboard" pages, each dedicated to different aspects (assets situation, service desk performance, income statement, etc.), and each containing one or more representative charts of the various interesting parameters.
The dashboard configuration requires you to:
create the page of the new dashboard from the Administration Module
insert one or more charts in the page through:

the definition of the data source in the shape of database function
the definition of the chart features (pie, bar, line, gauge) through a proper wizard of the Administration Module
the definition of the layout by moving each chart (drag and drop) into the desired position inside the dashboard
The dashboard configuration can be executed by the company's technicians after having acquired the knowledge about the CMDB basic structure.