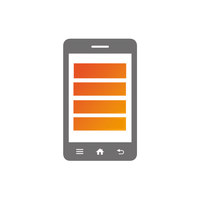 A lot of operations executed during the management of the asset lifecycle occurs in the field (movement of items, problem solving, inventory, etc.). It is useful to keep track of them as they are performed, in order to avoid delays and errors.
The mobile APP  "CMDBuild" has been realized with the aim of executing the main features of the Data Management Module through tablets and smartphones.
The mobile APP "CMDBuild" implements the main functionalities of the desktop interface:
login (with groups and tenants choice)
cards management
processes management (with widgets)
reports
views
attachments
relations
search and filters
customizable menus (included hierarchical navigation)
multi-language support
It is also possible to configure custom pages, widgets and contextual menu items for the simplified management of some operations.
You can even apply additional features that are not available in the desktop interface:
taking pictures and filing them in the CMDB as attachments
automatically reading Barcodes and QRcodes when opening the related card
The mobile APP "CMDBuild" can be use for:
CMDBuild version 3.3. or higher
openMAINT version 2.1 or higher
CMDBuild READY2USE version 2.1 or higher
and with the devices: 
Android version 5.1 or higher
iOS version 11.0 or higher
Download the "CMDBuild" app from the stores:
To activate to the app you need to subscribe to the maintenance service.