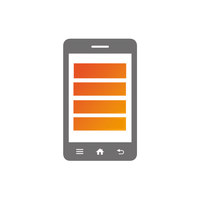 A lot of operations executed during the management of the asset lifecycle occurs in the field (movement of items, problem solving, inventory, etc.). It is useful to keep track of them as they are performed, in order to avoid delays and errors.
The mobile APP of CMDBuild has been realized with the aim of executing the main features of the Data Management Module through tablets and smartphones.
The mobile APP allows you to:
use the navigation menu
consult and update cards, relations and attachments
do searches and apply filters
consult and process workflow with the main widgets
print reports
set the configuration parameters and consult logs
You can also apply additional features that are not available in the desktop interface:
taking pictures and filing them in the CMDB as attachments
automatically reading Barcodes and QRcodes when opening the related card
CMDBuild "Mobile" can be used with Android devices (version 4.1 or higher) and iOS (version 8.0 or higher).
To access to the app you need to subscribe to the maintenance service.