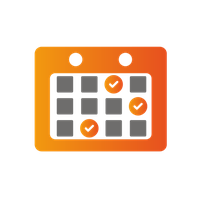 This function helps operators to remind and manage single or recurring deadlines related, for example, to certifications, warranties, contracts with customers and suppliers, administrative or staff-related procedures, etc.
Deadlines can be generated automatically from the system when inserting new data cards containing data attributes marked as "deadline", but also can be inserted manually by operators directly into the Scheduler.
In the first case the System Administrator can define generation criteria (start,
end, number of occurrences, frequency type and value, notification mode, etc.) and link them to any Data-type attribute of any class. The user can view and/or edit these criteria when inserting a data card of that class. The resulting deadlines will be then registered into the Scheduler.
The tasks that are due are notified via e-mail, with the required notice, to the specified user or group. Having the necessary permissions, in the Scheduler you will be able to: 
view the deadlines list, with the standard search, filter and print function;
view / edit the complete data card of a deadline, with the information related to category, date, description, interested group / user, status, etc.;
close or cancel a deadline intervening on the status and on the date of event;
access the "Calendar" view and view the deadlines in the type of interface.