Editor and workflow engine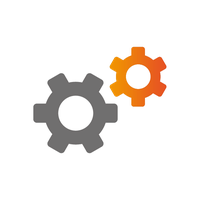 One important added value of CMDBuild is the possibility of defining processes for operators to execute the management activities and grant at the same time:
a certainty about the correct updating of the CMDB, with which the workflow system is completely integrated and correlated
a standard interface for users
a complete tracking of the activities carried out, used to facilitate the control and get periodic statistics on the service (SLA check)
The workflow definition system can be configured both in terms of information and management and automatisms flow chart.
So CMDBuild doesn't supply standard processes implemented in a static way, but a generic configuration system used according to the specific needs of every single organization.
In particular every workflow is described in the system in terms of:
persistent data structures (specific classes and related attributes and domains)
roles authorized to perform each interactive step of the workflow
activities sequence (interactive steps and automatisms), with conditional flows
information and widgets to be displayed or to be filled by user on each step
tasks performed when the flow advances (start sub-processes, CMDB update, send e-mail, report generation, interaction with external application, etc.)
Workflows are designed using the open source external visual editor (Together Workflow Editor), and then imported into CMDBuild (standard XPDL files) in order to be executed with the native CMDBuild workflow engine "RIVER" or with the Together Workflow Server engine.
In the IT environment, these basic mechanisms allow the configuration of all processes provided by ITIL "best practices", included Incident Management, Change Management, Request Fulfillment, Service Catalog, etc. In the Facility Management environment, all maintenance processes can be configured.