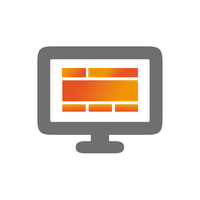 The standard CMDBuild user interface is addressed to technicians who use it regularly.
It is often necessary to make available CMDBuild features for non-technical users who need to process some basic operations on simplified interfaces hosted by intranet portals.
The typical operations these users are interested in can include the signal of requests, the control of the solving iter, the consult of FAQs, the print of reports, etc.
CMDBuild provides a component called GUI Framework for the creation of simplified interfaces aimed to non-technical users.
The CMDBuild GUI Framework has the following features:
it can be activated in portals based on different technologies (it is developed in javascript / JQuery environment)
it allows an (almost) unlimited freedom when projecting the graphic layout, defined through an XML descriptor and with the possibility of intervening on the CSS
it grants a quick configuration thanks to predefined functions for the interaction with CMDBuild and thanks to native graphic solutions (forms, grids, upload buttons and other widgets)
it interacts with CMDBuild core through the REST webservice
The CMDBuild GUI Framework has been used for the verticalization of CMDBuild READY2USE and of openMAINT for the implementation of Self Service portals used for the interaction among final users and IT operators.