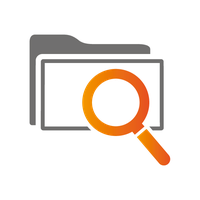 CMDBuild includes two main modules:
The Administration Module, only for administrators users, is intended for the startup of the basic configuration and the consecutive modifications.
The Data Management Module, used by operators, lets you manage for the data cards consultation and update, run the processes, print of the reports, etc.
The Data Management Module is the interface for operators and allows you to process all daily Asset Management operations.
According to each role, this means:
consult and update data of assets (items and hierarchy depending on the applicable domain) and of related entities (company, employees, buildings, customers, suppliers, orders, etc.)
execute your activities according to the company processes helped by collaborative workflows specifically projected
execute the control activities by opening dashboards and printing reports specifically configured
The main features of the Data Management Module include:
card management and "views" on data cards

searches through set criteria or through filters previously saved
inserting, creation, change, cloning of cards
master view - detail
consultation, creation and change of relations among cards
visualization of the Relation Graph
consultation of the changes of cards
card attachments upload
consultation of assets on cartography, vector maps, 3D models
exportation and printing of cards, choosing columns and row filter
printing of current card with relations

process management

consultation and research
start and advance using the provided widgets

reports

report printing (tabular, with graphs, documents, etc.)

dashboard

consultation of graphs configured in the system and control of related KPI

utility features

change of group / change of tenant
user preferences
massive card editing
CSV import / export
password change
Usefule links: